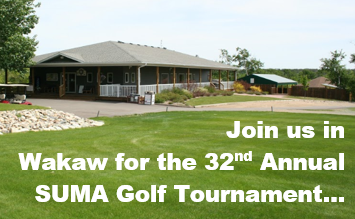 Annual Golf Tournament
Meetings and Other Events
July 7, 2022 – July 8, 2022
32nd Annual SUMA Golf Tournament
Hosted by the Town of Wakaw at Wakaw Lake Regional Park.
Schedule
July 7th Social on the Wheatland Express Excursion Train
Departs from Wakaw 4:30pm
Gathering at "Little Big Town" and catered meal to follow.
July 8th Four-person 18 Hole Scramble @ Wakaw Lake Regional Park
Shotgun start 9:00am
Includes golf cart, breakfast, prizes, supper and championship celebration!
Register here by June 17, 2022.
*Please note, all registration forms must be accompanied by payment and sent to the Town of Wakaw directly.
For more information, including accomodations, visit the town of Wakaw's website, contact wakaw2022@wakaw.ca or call 306-233-4284
View All Events