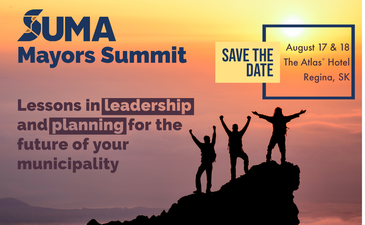 SUMA Mayors' Summit
August 17, 2023 – August 18, 2023
SUMA is excited to introduce the SUMA Mayors' Summit exclusively for Saskatchewan mayors! Join us on August 17 and 18 at the Atlas° hotel, or virtually via Zoom, for this unique opportunity to connect with other Saskatchewan Mayors. During SUMA's Mayors Summit, attendees will participate in lectures, small group work, and large group discussions with their peers. Sessions are designed to help freshen up your leadership skills and give you the tools to support your municipality through transitions.
This two-day workshop includes:

SUMA Mayors' Summit is sponsored by SaskWater.
View All Events