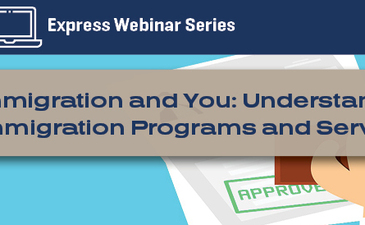 Immigration and You: Understanding Immigration Programs and Services
November 30, 2021 - 10:00 am – 11:00 am
The Canadian government is on course to welcome over 400,000 new permanent residents annually from 2021 to 2023. Saskatchewan will be home to many of these newcomers.

In June we held a webinar "Working with Newcomers to Build Sustainable Communities" which focused on how working with newcomers can enhance community development and sustainability. Join us on November 30 at 10:00 a.m. for the webinar "Immigration and You: Understanding Immigration Programs and Services" to learn more about the immigration process and how you can participate.

In this webinar presenters from the City of Saskatoon, Regina Police Service, and the Government of Saskatchewan, Ministry of Immigration, will discuss the immigration programs and services that are available and are used by other stakeholders to attract, welcome, and retain newcomers in Saskatchewan. This session will be moderated by Crystal Froese, City of Moose Jaw.

As part of our Express Webinar Series this webinar will feature 3 presentations, each running for 15 minutes.

If you can't make it to the live event, don't worry! A recording will be sent out to all registrants.
View All Events