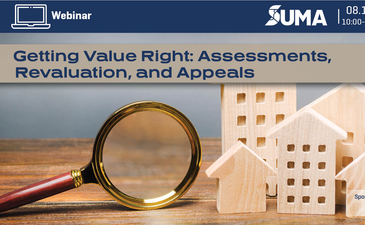 Getting Value Right: Assessments, Revaluation, and Appeals
August 10, 2021 - 10:00 am – 11:00 am
Property assessments are fundamentally important to municipal budgets. Provincial legislation requires all properties in Saskatchewan be revalued once every four years. With 2021 being a revaluation year, local governments across Saskatchewan are working with updated property values, and a new cycle of notices and appeals.
Join SUMA on August 10 at 10:00 a.m. for our next webinar Getting Value Right: Assessments, Revaluation, and Appeals. A panel of Saskatchewan Assessment Management Agency representatives and assessment lawyers will discuss the big issues in assessment, from revaluation to appeals.
If you can't make it to this live event, don't worry! A recording will be sent out to all registrants.
Register here: https://us02web.zoom.us/webinar/register/WN_SQbZ1VXfQu-YcORv0zHWOQ
View All Events