Sponsorship, Tradeshow, and Advertisting Information

The 2022 SUMA Municipal Marketplace tradeshow is confirmed for Monday, April 4 and Tuesday, April 5 at the International Trade Centre - Evraz Place in Regina.
Booth regististration is now open!
Check out our new interactive floorplan to pick the perfect booth. Apply here.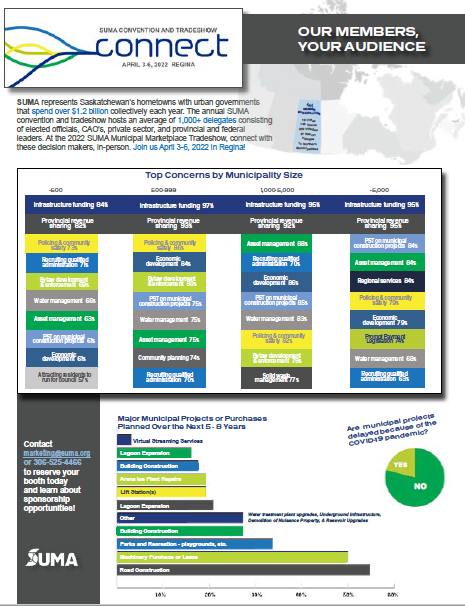 Questions regarding sponsorship and tradeshow? Please email marketing@suma.org or call 306-525-4466.
Effective October 1, 2021, a provincial requirement for proof of vaccination or negative test was implemented for public access to event venues that bring groups of people together. Evraz Place is committed to following provincial mandates. They will be requesting proof of vaccination or a negative test result to attend this event, and will adhere to any other mandate(s) that may be announced in the interim. In the event of additional mandates or changes to current mandates, we will communicate our updated expectations to all exhibitors.
SCAM WARNING:
SUMA has been made aware of past tradeshow vendors receiving letters that appear to come from us, but are actually from the International Fairs Directory. The letter requests vendors send in company information. SUMA is in no way affiliated with the International Fairs Directory, and will never provide your information to outside organizations. Please do not reply to these inquiries.
Please see example below: