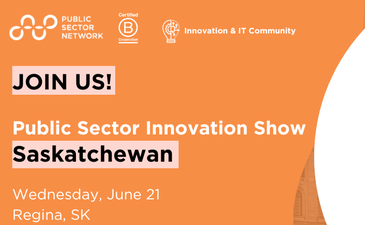 Public Sector Innovation Show Saskatchewan
Delta Hotels by Marriott, Regina
SUMA is excited to be partnering with Public Sector Network in their upcoming Public Sector Innovation Show Saskatchewan, taking place on June 21 in Regina.
More About The Event
We are living in an era of unprecedented change, and evolving citizen expectations with rapidly advancing technology, complex policies, and socioeconomic factors that are not responsive to traditional approaches to stimulating growth. This is the right time to take action, work together, and build a culture for the future by beginning and continuing your transformation journey!
Cross-agency collaboration drives common outcomes when leaders from various organizations and departments work together and share their visions for driving innovation. These partnerships can be used to leverage and turn ideas into real solutions and, in turn, create better services available for all citizens. This will result in improved outcomes for citizens with the integrity, innovation, and enthusiasm of a world-class public service.
Join us to address current public sector challenges and discover solutions offered, best practices and strategies. This summit will bring public sector leaders, innovators, and policymakers, all under one roof, to explore the potential of technology in mitigating the challenges.
View All Events